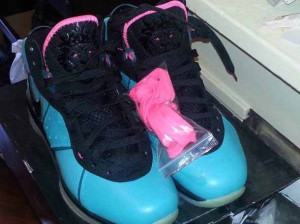 For sale on Craigslist: "south beach 8 sz 13 deadstock – $1300 (Harlem / Morningside)"
"You know what these are and u know what they're worth! Only sserious inqueries. Cash only!"
How about that. Collectors' mania. I get it. But let's put it in perspective. Helps think of money independently of the thing it is buying. So do you want a couple of turquoise foot bags, or do you want:
Bull terrier puppy. $1300.
Alfred Morris's car. $1300.

An attempt to improve one's sex life. $1300.
What a couple has crowdsourced so far toward the cost of adopting. $1300.
What a pastor pays for someone to kill his wife. $1300.
Google Chromebook Pixel. $1300.
Shoes. $1300.